All day premium dining with a personal touch, in the heart of Chelsea.
What's On At The GOAT Chelsea?
Welcome To The GOAT Chelsea
In the heart of Chelsea, you'll find a slice of London's history combined with Italian-inspired a la carte menus (with gluten-free, vegan & vegetarian options), a champagne terrace and private dining. The GOAT is the perfect venue for a romantic rendezvous, family outing, business lunch or private party. We welcome your kids and pooches.
You can book online now via the reservations button above, the WhatsApp button at the bottom right, or via phone at 020 3750 2594
Christmas Bookings – book now, not to be disappointed, as we are already receiving tons of bookings.
We very much look forward to welcoming you to The GOAT Chelsea.
The GOAT Chelsea x
A Collection of Experiences
Lunch
Indulge in our lunch menu or take advantage of our bottomless wood fired pizza special offer (Monday to Thursday). Lunch times at the GOAT are here to make your mid week marvellous. 
Dinner
Our Menu features a range of fresh, imaginative dishes which combine the finest seasonal ingredients, colours & textures. 
Sunday Roast
You will be spoilt for choice: 32 day aged roasted Beef, slow cooked Pork Belly, half roasted Chicken and Vegan Wellington. All of our Sunday roasts are served with roast potatoes, Yorkies and gravy.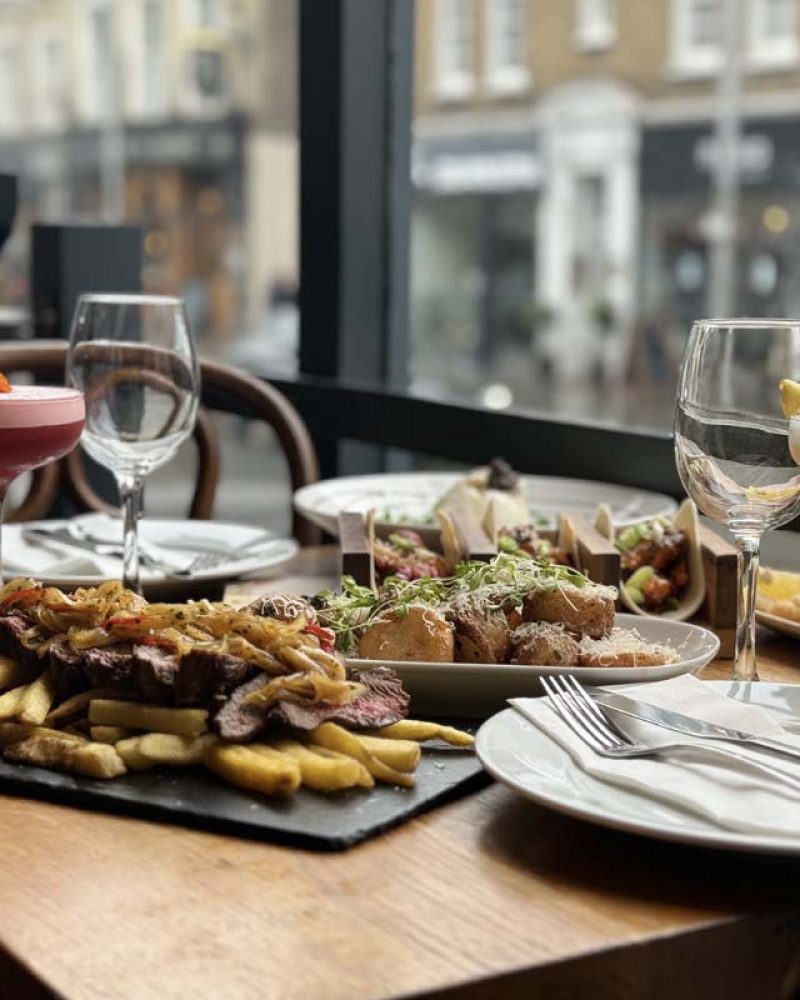 Happy Hour
* 2-4-1 on selected cocktails – All week from 5pm-7pm


Bottomless Pizza
* Endless freshly made pizza with a variety of toppings to your table – available for the entire table only – Monday – Thursday.
Wednesday Residents Night
* 50% off your Food Bill! Simply show a form of ID with a SW postcode.
Our expert team of mixologists have curated a list of original signature and classic cocktails and mocktails with a seasonal twist. We also offer a range of hand-selected wines and Champagne for every occasion. Find out more about our cocktail bar.
Shh – ask your server about our hidden SpeakEasy for a more sultry experience. 
The GOAT Chelsea is a 3 floor destination venue with a relaxed restaurant on the ground floor, and a stylish all day cocktail bar and lounge upstairs. Our name "GOAT" is a shout out to the amazing history of the 350-year-old pub, "The Goat In Boots", that occupied the building before us. What's more, The GOAT Chelsea has been featured numerous times in the popular "Made In Chelsea" series.
Google & Tripadvisor Reviews
"Great for drinks and wine or starters also amazing decor and vibe."
"I rented the private room for my birthday a couple of weeks ago. It was a great night!"
"I never like getting roasts at restaurants... this roast was honestly the tastiest thing I've eaten in a while! "
"Great service, cosy outside seating and yummy good... cant wait to go back."
"Perfect place for a wonderful dinner in beautiful surroundings."
"Yummy sorbet, all tastes worth tasting !"
"Stopped by for a few drinks... Drinks were lovely and the setting is beautiful.
I held my going away party in the bar upstairs and it was such a great spot to socialise and have a dance!
"Great terrace where you can have lunch or simply enjoy a coffee. Very friendly staff."